Trailer by Costas Lampropoulos, music by the amazing Ermis Koukaris!
This weekend at Comicdom Athens, shockingly talented White Knuckle artist, Valia Kapadai, will be turning the completion of the book into a major convention event by colouring its final pages live from the Comcdom Press table!
In-between laying down her gorgeous White Knuckle colours, Valia will also be promoting Indigo, her latest multi-writer collection. Indigo features stories from the likes of Chris Lynch, Rich McAuliffe and Ollie Masters, all rendered in Valia's unique, poetic and profoundly haunting style.
Valia will also be running a panel, giving away all her precious, precious secret techniques for finding publishers and giving them every opportunity to get as excited about your work as you are. Here's the blurb, direct from the Comicdom site:
Valia Kapadai: In Search Of A Publisher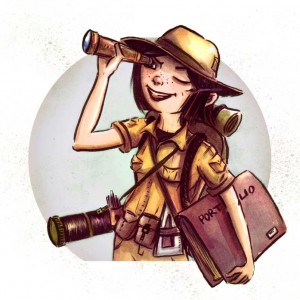 You've finished creating your comic book… but this is where it gets really difficult!
In this workshop, Valia Kapadai shares everything she learned through her successful experience in contacting international publishers, and gives a step-by-step guide in creating the "perfect pitch", without neglecting to mention and examine other alternatives, like self-publishing or webcomics.
Saturday, March 31, 14:00 (Seminar Room)
Visit the
Comicdom Athens
website for more information.